What is Turmeric?
Found in the roots of the Curcuma longa plant and a member of the ginger family, turmeric has been used as a medicine, a spice (curry) and as yellow dye since 600 B.C.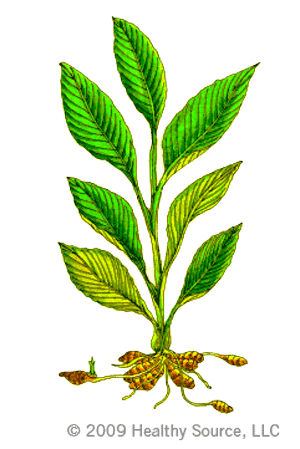 Turmeric is a spice, a dye, and a medicinal herb.
Turmeric is the dried rhizome (root) of the Curcuma longa plant and is used for its flavor, as a food color, and as an medicinal herb.
The dried root is used to make curry, one of the most widely used spices in India.
The golden spice has long been used in both Ayurveda and Chinese medicines as an anti-inflammatory agent and used for conditions such as arthritis. It has been highly valued by those who practice Hatha Yoga, for its beneficial effects on ligaments. Throughout Asia, turmeric has been used for stomach problems, allergies, diarrhea, heartburn, wind, bloating, colic, flatulence and liver ailments. (1)
While therapeutic properties of turmeric have been known for centuries, modern science has identified the curcuminoids (phenolic compounds found in turmeric) and provides a scientific basis for many clinical uses of standardized curcumin.