Warning: Widespread Use of Toxic Solvent Found in Curcumin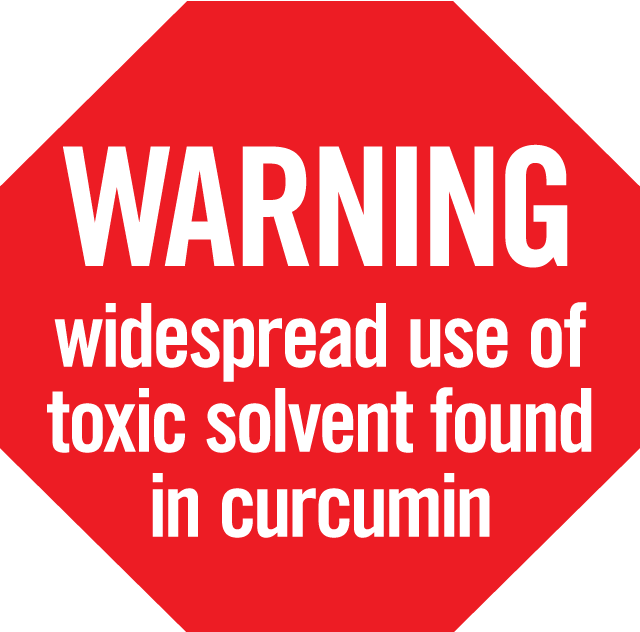 "Curcumin extract with an EDC (toxic solvent) amount less than 5 ppm is not easily found (in the marketplace)."—Integrative Medicine (25)
Shocking data shows widespread contamination of curcumin products with a Class-1 residual solvent known as EDC (1,2-dichloroethane). According to the Toxic Substances and Disease Registry of the Department of Health and Human Services, the potential health effects of exposure to the Class-1 solvent at levels above 5 ppm (parts-per-million) are: SHORT-TERM EFFECTS OF EDC: central nervous system disorders; adverse liver, kidney, and lung effects; and heart failure. LONG-TERM EFFECTS OF EDC: probable carcinogen.
The problem is so widespread, according to the researchers, "curcumin extract with an EDC amount less than 5 ppm is not easily found." (25)
A deprecated testing method is often used for curcumin so toxic solvents remain undetected and blindly pass through GMP standards.
Solvent Residue Testing Used for Curcumin is Unreliable and Un-Approved by FDA
The contamination problem is complicated by widespread use of GC-MS (Gas Chromotography-Mass Spectrometry), an unreliable, outdated and un-approved testing method for curcumin. Current USP/FDA standards no longer permit use of GC-MS to determine solvent residue in curcumin.
The approved standard is GC-HEADSPACE (Gas Chromotography Headspace), but it's very expensive, not widely available, and many testing companies simply do not have access to the equipment and technology.
Facts Consumers need to know about Curcumin
Which testing methods are available for herbal extracts?

GC-MS (Gas Chromatography–Mass Spectrometry)
GC-HEADSPACE (Gas Chromatography Headspace)

How should curcumin be tested?
Why don't all manufacturers use the correct method?

COST. GC-HEADSPACE is far more expensive than GC-MS.
Why is GC-MS a problem? GC-MS does not break or dissolve curcumin crystals, so contaminants remain undetected. So, while GC-MS can be reliable for other herbal extracts, curcumin is different because it undergoes crystallization during extraction and solvents become trapped inside the curcumin crystals.